I've been afforded by the universe, a 35th time around.  I find that to be a blessing.  As much as the person looking back at me from the mirror STILL looks nothing like I feel, I'm grateful he's there.  I felt before the actual date and time rolled around, that I'd put work into completing another traditional 11×14 piece.  However, what would the subject be?
I'd finally applied DC Universe to my home projector system.  I was a bit disappointed at the lack of content until I really started to dig in to what was available.  They have some shows from when I was a kid, like Superboy!!  The one from the late 80s where Clark and Lana go to college.  It also reminded me of the 60s Superboy Cartoon from Filmation with Krypto!  That inspired me on the next piece on my journey!
The night before the 17th, I etched and inked and colored this Superboy Variant Cover (or fan art) as if my 34th year of art depended on it's completion, lol.  I took to the internet for reference.  The death of adult film actor, Billy Herrington still stung.  He'd died in an auto accident earlier this year and he left monuments in the world of adult film and Japanese Memes (as Aniki or Gamicughi).  Such a mammoth physique was a prime candidate for a youthful and muscled Kon El.
Another thing to take into consideration was the direction for the costume design.  I took cues from the era of the death of Superman in the 90s and some concepts I found online for a capeless Super-costume.
As for Lana Lang, I pretty much drew Kristen Kreuk (played her on Smallville) as a Golden-Era Lana.  I really had fun with her.  I was able to find some BDSM illustrations for ways to position her in a "damsel in distress" pose.  As for her peril, I went with the classic Daphne Blake trope from Scooby-Doo.  I had her placed on a log splitter.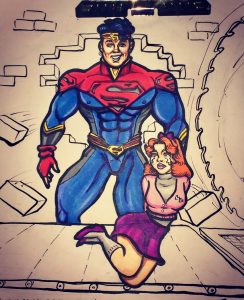 I started with a very detailed sketch, putting all the circles, lines, and squares in place.  Once everything began to take form, I went over it a couple of times more in pencil.  When I was sure I was happy with the line weights in pencil, I went over it with my Chart-pak Fine Tip Marker.  I like using these in combo with 11×14 art foam behind.  More cushion for the pushin'!  It was all held together on a clipbpoard.  This process is great for varying line weights for inking and also works well with coloring in ArtStix (gives it a light air-brush quality).
I started very light with the markers.  I went in lightly on Lana's complexion first.  I could've done a better job at keeping that continuity when it came to her legs.  Instead, I mixed up her base color with her shade color so you can see the legs are altogether darker then her face by just a tone 🙁  On Kon El, I went a bit tanner on his base skin tone and built on that.  I used Billy Herrington's classic, dimpled half-smile on his expression.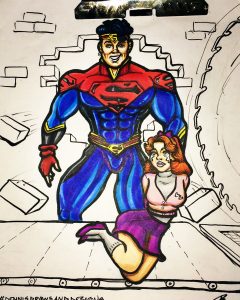 When it comes to Prismacolor Markers like what I used here, it's important to take note of which number (each one is numbered) you use for what purpose.  I've begun to separate them into different Ziploc Baggies.  For instance, I have baggies for skin-tones, natural colors, and the rest are in a case until I figure them out, lol.
At this point I began to consider the light source.  I'd drawn Superboy busting through a brick wall.  Ten seasons of Smallville has taught me that there is where all the light will stream through.   Creating a picture of inner shadow haloed by a bit of light.
The next step will be to color the background and it's objects!  I'll be doing most of that with Prismacolor Artstix along with some colored pencil.  Stay tuned for more!