Dennis started drawing at the age of four, in Somerville, NJ. His father, a Colombian-American immigrant saw his son's talent and immediately entered him in local contests. Dennis was happy to see his father so proud of him. Having grown up with Spanish as his first language in a predominantly white neighborhood, art was an ice breaker in his early days of education. In pre-school, instead of recess; Dennis preferred to fill post-it pads with sequential illustrations, staying in with his teacher so that she may add captions. Dennis didn't know how to write yet and found this special time with his teacher very rewarding. Though this created a pattern of social avoidance, it'd eventually pay, flourishing in his very own "Doodle World". Dennis very much enjoyed reading his older sisters Archie comics and in the 4th grade, he was thrilled to be collaborating with classmates in making their own comics called "Dangerous David". Later he would be creating comics for his high school newspaper. In 2008, Dennis entered Tampa Bay's Art Festival and won 1st Place in the field of character concept design. Later, Romero received his Bachelor's in Fine Arts (Computer Animation Major) from IADT in 2009.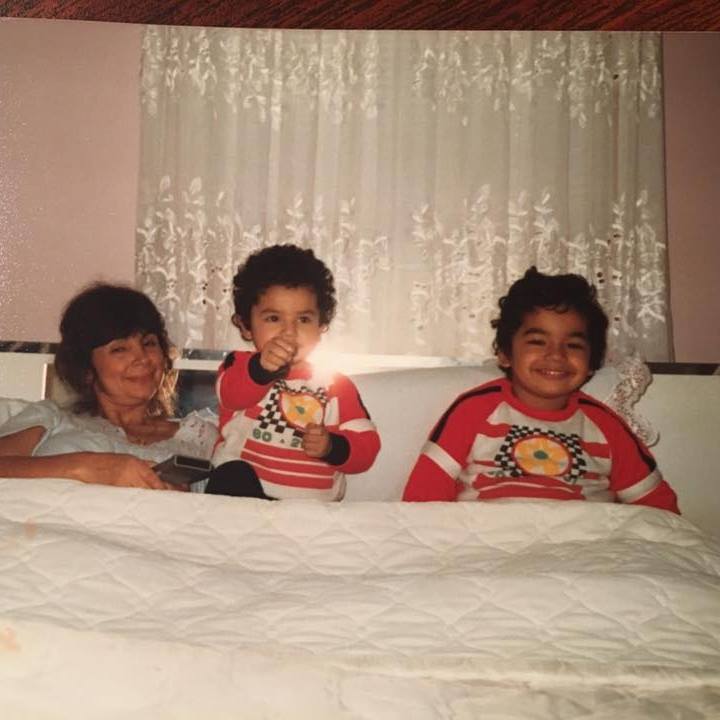 (From Left to Right) My mom, Brother Christian, and Myself
Dennis interned at the Spot Ad Agency (2008) in Tampa, making computer graphics in Photoshop for local real estate properties, followed by a job at Virtual Web Productions (2010); acting in commercials, writing scripts, and designing computer graphics. Dennis began to see the effects Photoshop was having in his illustrations as early as his college days, and continued to thrive in this particular software. His career relied heavily in this design realm from then on. As a kid, he loved the idea of having a career in ads like Darren Stevens on "Bewitched" or Allison on "Melrose Place" and like in these shows, he was starting to see a big influence from marketing and social media in his portfolio.
In the summer of 2017, Dennis looked into the field of Caricatures. His illustration style was influenced by Dan DeCarlo (Archie Comics, Josie & the Pussycats), Bruce Timm (Batman, the Animated Series) and Hanna-Barbera (Scooby-Doo). He liked his characters to have very simple, iconic lines. He predicted this style would come across nicely in the caricature field. He was right, that winter he landed a job at Walt Disney World as a caricature artist. He loved learning from his peers on the value of economizing lines, having a goal of five minutes per person. He decided to take what he was learning and started his own business, Dennis Draws & Designs; doing caricatures and graphics for local businesses from his home office in Lake Nona.
The best place to go and see a variety of Dennis work is his Instagram (@dennisdrawsorlando) where he posts almost daily. Currently, Dennis still makes appearances at the Disney Boardwalk and Icon Park, as well as performing caricatures at parties and events like yours!